Wednesday, 11 September 2019 23:15

Looking for Purple weed seeds? Of all the strains that you can find on the planet, there are few as interesting and sought after as the purple weed strains. These strains develop into their namesake either from the moment the first leaf shows, or further along the maturation process. Whatever your preferred plant, there's no denying the beauty of the purple cannabis strains.

There are many different types of purple weed, and we explore different strain seeds for sale on our website.


What is Purple Haze?

This weed strain is almost as iconic as the 1979 classic song by Jimi Hendrix. If you know anything about the time frame when mister Hendrix was the fringed king dominating the stage, just the name of this purple weed strain is enough to send you into a reminiscent euphoria that brings any seasoned stoner a smoky ring of memories. As cliché as it sounds, the smoke itself truly is dreamy and euphoric.

This classic sativa strain is the king of the purple marijuana strains. Despite inspiring a dreamy and nostalgic mindset, it is still a characteristically energetic cerebral high. In fact, it is possibly because of the combination of dreaminess and cerebral stimulation that makes this purple strain one of the most widespread favorites. Looking for a strain to inspire creativity and relaxation? Look no further than Purple Haze.

Origin

Purple Haze's precise parent strains are, well, hazy at best. However, the favorite contenders are Haze and Purple Thai.

Flowering Time?

Purple Haze has an 8-9-week flowering time before delivering lavender colored buds with a sweet yet earthy trademark scent.

Purple Haze by G13 Labs Link


Purple Afghan Kush

Afghan Kush is another world-famous favorite, and so it comes as no surprise that the purple bud strain version of this strain is a firm favorite too. There are many different types of purple weed, however few can claim to have won four different awards from various international cannabis competitions.

Where does She Come From?
Purple Afghan Kush comes from parent strains Purple Kush and Pre '98 Bubba Kush.

How Does She Grow?
On the journey from seed to bud, you can expect a strong and sturdy plant. Once the plant reaches the fifth week, you can expect deep purple buds to develop, and keep your eyes peeled as the purple deepens into a rich hue as it reaches the final stages of maturation before harvest, which is around the eighth week. And what type of buds can you expect to harvest? Thick, hard buds carrying a 15-20% THC punch and the dank scent to prove it.

Purple Afghan Kush by Dinafem Seeds Link


Ayahuasca Purple

While this strain may not be as well-known as the previous two we have thus far mentioned, Ayahuasca Purple is well loved by those who happen to cross paths with this interesting strain. The strain came to be thanks to a US Army veteran living in the beautiful Alaskan state. The story goes that the Ayahuasca Purple strain is comprised of Red River Delta genes that were passed on to Barney's Farm seeds by the veteran. This is an almost 100% Indica purple marijuana and has, on average, 21% THC.

Flowering Time
The initial seeds produced intensely colored buds, rich in rubies and purples.

After that, the strain was crossed with the Master Kush (Sensi Seeds) and was named Ayahuasca Purple. As for flowering time and time until ready for harvest, different phenotypes will have different harvest times, varying from as little as 50 days. So, if you are looking for your perfect Ayahuasca Purple, then seed through your seeds until you find your mother plant that has the perfect flowering time and still produces the best buds.

Ayahuasca Purple by Barney's Farm Seeds Link


Purple Bud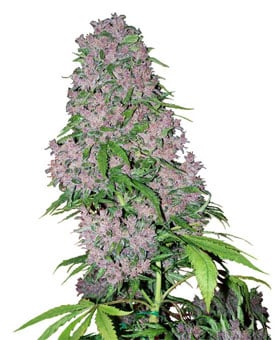 This purple bud strain is a dark purple weed that can mature in deep, almost black flowers. Purple Bud carries West Coast genes and as she grows develops characteristics similar to Skunk #1.

Of all the plants on the list of purple strains, this is one of the easiest purple marijuana strains to grow- both indoors and outdoors. Displaying exceptional ease for growth in the high latitude climates, growers in these areas are happy to see the buds ready for harvest by October. And what can one expect from this strain? A cerebral high with an average of 20% THC.

Purple Bud by White Label Seeds Link


Granddaddy Purple

If you have been going through this list of purple weed strains and waiting for a dark purple weed name that you recognize, then chances are you've found it. The Granddaddy Purple is a famous purple strain that leaves most people smiling as they sit couch locked in a dreamy state of peace. This strain is royalty- and is known as the "Royal Indica". Whether you know it as GDP, Granddaddy Purps, or simply Grand Daddy Purple- it is a strain that sticks in your marijuana memory bank. Famous for originating in California and remained one of the most popular dark purple weed strains for many years.

Grand Daddy Purps grows into a hardy plant, and delivers sturdy and great tasting buds. The buds are a rich purple color that can intensify as the temperature drops.

GDP Grow Time

The strain is fairly easy to maintain and grow outdoors due to its resistance to mold. The plant can also yield a high amount, but then it needs to be left with a fairly long cycle for vegetation. Once the plant is ready for harvest (usually between 7 and 8 weeks), you can expect to find both the stalk and branches filled with thick, juicy buds carrying anything between 17-23% THC.

Always remember that if you are looking for a good strain, then you need to focus first on what seed bank you are buying from and ask yourself this, "can I trust this seller?"

Now you know the best place to buy purple weed seeds that you can trust? Take a look at our seed bank and rest assured that you will be getting cannabis seeds that you can rely on.

Original Grand Daddy Purp by Ken's Grand Daddy Purple Genetics Link

You can view all strains available here in Seed City that are listed as "Purple Strains" through this link - /cannabis-seeds/purple-strains