We have authentic Sunset Sherbet seeds for sale from multiple reputable cannabis breeders. The Sherbet cannabis strain is a tasty treat for all; and can be easily grown and most definitely enjoyed.

Sunset Sherbet Lineage Info
Sunset Sherbert has the infamous Girl Scout Cookies (nowadays known as GSC) as one of their parent strains. The result is an Indica heavy hybrid that pays tribute to its excellent genetic heritage with its flavor and effects. And the Girl Scout Cookies owes its genetic history to cannabis heavyweights OG Kush, Durban Poison and Cherry Pie. If there was any strain that could name drop its parental heritage, it's the Sunset Sherbert strain.

So we have covered that the one parent is GSC, but what about the other parent? It is only natural that GSC takes the spotlight, especially when you see that the other parent strain could be the indica strain Pink Panties. Never heard of it? Don't worry, few have. But what the Pink Panties strain lacks in fame it makes up for in taste. Pink Panties contributes to Sunset Sherbert's delicious scent and taste. This grants fruity flavors similar to the Blueberry Kush, because it is said to be related to the tasty treat that we have come to know and love, Blueberry Kush.

Moving forward with the knowledge of the genetic history, we can easily craft an understanding of the Sherbert strain, as it is an obvious mirror to its genetic history.
Buy Sunset Sherbert Marijuana Seeds
Find only authentic Sunset Sherbet seeds for sale from our seedbank, we also have the Rainbow sherbet strain seeds available for sale too.

Sunset Sherbet seeds from Concrete Jungle Seeds



Sunset Sherbet cannabis seeds from Pyramid Seeds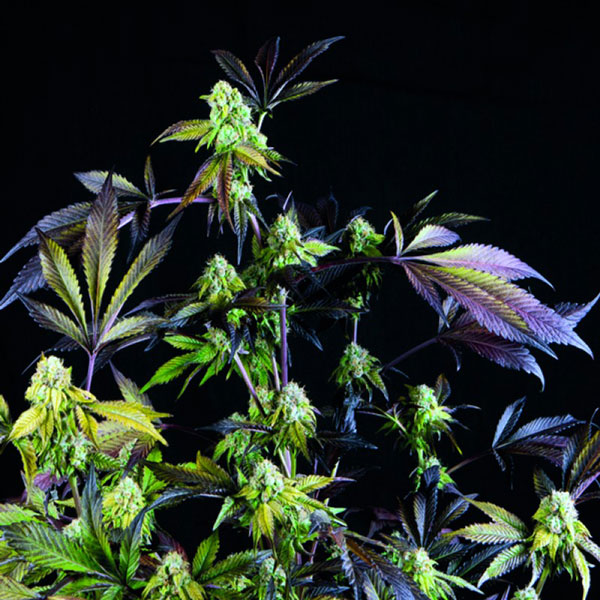 What does Sunset Sherbet Weed Look Like?
Sunset sherbert is aptly named, with typical sunset sherbet seeds growing into your typical bud, but splashed with colors reminiscent of sunset, with leaves that taper into colors from rusted browns to bright yellows and greens, and neon orange pistils like the rays of the sun.
All of these colorful nugs are then wrapped up in silvery trichomes, giving the sunset sherbet strain a glistening quality, much like the morning dew in the summer sun.
Once the Sherbert seeds grow into plants, the indica genetics will be clear to see. They are stocky plants, with thick stems giving way to bushy branches. The sherbert strain usually grows into dense trees, packing a heavy supply of flowers.

What does Sunset Sherbet Cannabis Strain Taste Like?
Both the taste and smell of the Sunset Sherbert has aided this strain in climbing in popularity over the past several years.

Let's begin with the sunset sherbert strain's signature aroma. We wouldn't be remiss in saying that its love at first smell. The aroma tantalise your tastebuds with subtle whiffs of summer and notes of berries, fruit, and a sweet earthiness. Sounds like a winning combination, but what are the effects that sherbert is well loved for?

Sherbert cannabis strain is loved across the cannabis community for two main reasons, the signature smell, and the delectable trademark taste. But despite these two seemingly vain reasons for love at first smoke, most people want to get their hands on the best sherbert seeds for the effect that the strain delivers.
Is Sherbert Indica or Sativa?
Although officially a hybrid, the sherbert strain boasts a heavy indica presence, averaging on 85% and only 15% sativa.
What Effect does Sherbert Give?
Despite being heavy-handed with the indica genetics, most cannabis aficionados are surprised to discover the surprisingly sativa effect from the delicious sherbert strain.
It is said that the sherbert strain offers psychoactive effects such as imagination, motivation, inspiration, and creativity.

Unlike most other indica strains, the sherbert strain does not induce a drowsy or sedative effect. It does, however, relax the physical body and allow both the physical body and the mental faculties to release stress. Many sativa heavy strains also make you feel like you are floating in the clouds while searching for the ground. With the sherbert strain, users tend to describe their head being in the clouds while their feet remain firmly rooted in the earth. Some people have reported that after using sherbert weed strain, the feeling and weight of their limbs become evident and apparent.

Although here at seed city, we do not make any claims to the medicinal use of cannabis, here is some useful information on the Sherbert strain for a medicinal strain.

Medicinal Use

Sunset Sherbert weed strain is being used to help with depression, anxiety, and stress. The use of sherbert to assist with conditions such as these is due to its uplifting effect while keeping anxiety and paranoia at bay.

Some patients report using the Sunset Sherbert weed strain to assist with nausea, chronic pain, and lack of appetite- all symptoms cancer patients have to deal with when going through chemotherapy or radiation.

If you are interested in using cannabis, whether recreationally or medicinally, be sure to check your local laws. Also, remember to use moderately and reduce or increase accordingly until you reach the desired effect.

How easy is Sunset Sherbert to Grow?
If you are thinking about growing your own Sunset Sherbet, keep reading to learn about what it takes to cultivate this lovely crop successfully…
Sunset Sherbet Cannabis Grow Info
The Sherbert strain is a beginner cultivator's paradise. It is a simple indica to cultivate since it is resistant to molds and mildews and is not a high maintenance plant. And for those that are not amateurs, they might find sherbert an easy sideline project.

Sunset sherbert seeds prefer the Mediterranian climate, where they are protected and kept warm. If you are growing indoors, then ensure that your sherbert plants are kept warm. The Sherbert seeds typically grow to be plants that are reasonably resistant to mold, making this strain a relatively low maintenance one. The most important variable to monitor is the humidity. If a clammy atmosphere is not remedied in time, then the plants' resistance to mold and mildew will falter, leaving your flowers at risk.

The flowering period for the sherbert cannabis strain is typically eight weeks, and although most growers rejoice at the ease of growing this plant, the yield could be disappointing. Despite this, the sherbert strain is a well sought after strain; easy to cultivate, and even easier to enjoy.